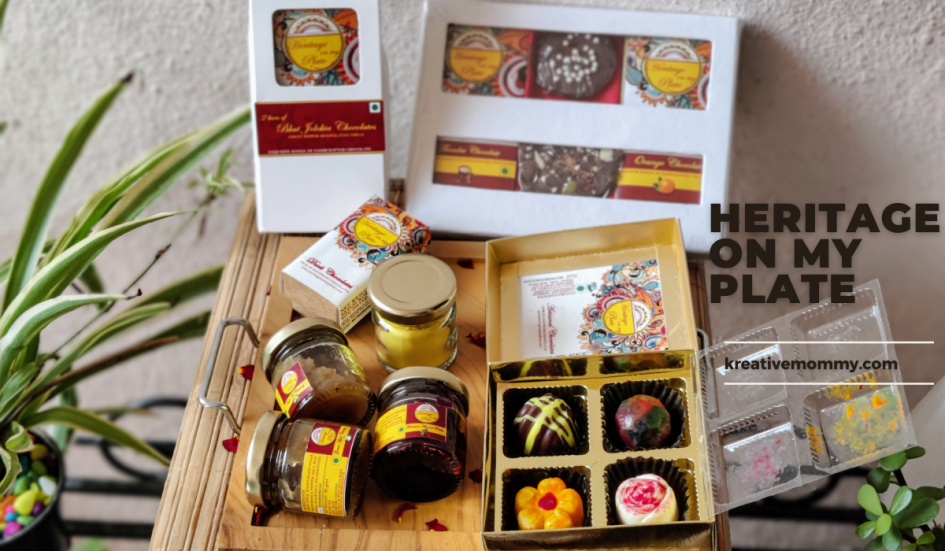 Heritage On My Plate – Handcrafted foods
As someone who studied nutrition, I know the value of healthy eating. But as a mom, it's not easy to get kids motivated to eat healthy all the time. Over the years, I have come up with a lot of new recipes for my kids. I normally change few ingredients here and there in normal recipes to make them healthier comparatively. Also, I always look out for things that are organic, natural, and homemade. So, when I came to know about Heritage on my plate, I had to try it.
Heritage on my plate – Handcrafted Goods
Heritage on my plate makes handcrafted healthy foods that are packaged attractively. There were two reasons for me to try these yummy products. One, I am trying to support many small ventures and local producers through my blog and social media, and second, of course as these are healthy and handmade.
Let me introduce you to different products which are available at heritage on my plate.
Handmade heritage chocolates – The delectable range of chocolates has been inspired by India's rich cultural food heritage and available in more than a dozen varieties. These are the interesting flavours.
Gulqand chocolate
Paan chocolate
Saffron almond chocolate
Aam papad chocolate
Orange chocolate
Khajoor gur rocks
Bhut Jolokia chocolates
Saunf misri and more.
My kids and I tried Orange, thandai, Bhut Jolokia, and artisanal chocolates and loved them all. I must say I was a little apprehensive about trying Bhut Jolokia (world's spiciest chilli) chocolate but loved the distinct flavour. Also, the best part of these chocolates is that you can give them to your kids without feeling guilty. Of course, in limited quantities but at least you know, they are homemade and safe with healthy ingredients.
Relish and chutneys –
Heritage on my plate creates healthy seasonal relishes with the best quality organic fruits and sulphurless sugar. These are all preservative-free and completely healthy and natural.
Some of the flavours they offer are – Beetroot almond relish, orange cinnamon relish, apple cinnamon, and black grapes relish. I have tried beetroot almond relish and can't want to try the other flavours. These are definitely a better option than jams and jellies we get in the market.
Chutneys – I am a sucker for homemade chutneys and try different recipes at home. But when I saw this unique range of chutneys from heritage on my plate, I had to try them. The ingredients are really interesting and different like Apricot chutney, green apple chutney, and amle ki chutney. I have tried green apple and amle ki chutney. Although both taste delicious, my husband and I picked our favourites. I like amle ki chutney and he likes green apple chutney better.
They also have some homemade masalas/ spices which you can check out. Other than this, there are gift options or bulk order options too.
I am definitely ordering some more chocolates and chutneys for my family. Why don't you try these handcrafted products too? To order, you can check out the website www.heritageonmyplate.com and enjoy these heritage foods.
Also, you can check out the social media channels