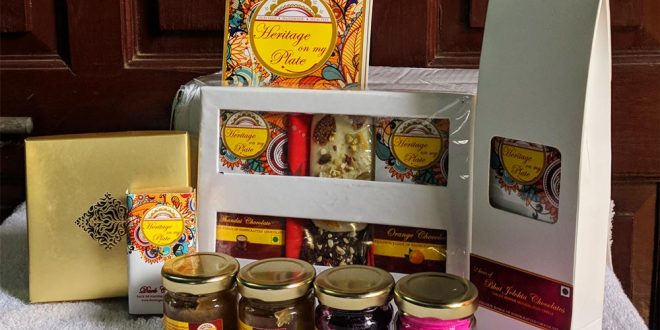 Delicious Artisan Chocolates by Heritage On My Plate – Review
They say that no matter how your mood is, there's one thing that can lift it and that is Chocolate. Having some amount of dark chocolate is known to help beat stress and keep things under control. One of the recent trends that I've observed is that there are a lot of small establishments coming up that are providing some delightful chocolates. While the big brands have the market share, these establishments are about the quality and uniqueness of the chocolates. And one such brand that I'm going to talk about today is Heritage On My Plate.
On the occasion of Holi, I was sent in a Holi hamper of Artisan Chocolates along with a lot of other items by Heritage On My Plate. I've finished almost all the items from the box, and that means it's the perfect time to post my thoughts on Heritage On My Plate.
The Story of Heritage On My Plate
The team behind Heritage On My Plate is the husband and wife duo of Sanchi Seth and Rachit Seth. As our lives are becoming faster, the ways of cooking have also modernized. In the process, our traditional legacy of cooking and ingredients is getting lost. The duo is passionate about preserving India's food tradition through Heritage On My Plate. All their products are handcrafted at a small scale with the finest ingredients.
They offer a wide range of items including Artisinal Chocolates, relishes, and chutneys. There are some unique flavors and combinations that you will come across while browsing their offerings at heritageonmyplate.com. They have some unique Indian flavors to their artisan chocolates with the likes of Paan, Aam Papad, Dates & Kesar to name a few. The variety extends into Chutneys & Relishes too. Lastly, they offer multiple gifting options for various occasions. And one such Holi Hamper is what I received from Heritage On My Plate.
Holi Hamper by Heritage On My Plate – Review
The gift pack I received had a selection of artisan chocolates, chocolate bars, chutneys, relishes, and gulaal as well. I must say that they have put a lot of thought behind the packaging as well which is of high quality and aesthetically pleasing as well.
Starting with the chocolate bars, I received Thandai, Orange, and Bhut Jolokia flavors. The Thandi chocolate bar was made of milk chocolate with Thandai flavor and rose petals. While the flavor was bang on, it was high on sweetness for my liking. I feel the sweetness in the chocolate bar could be reduced & the flavor increased.
Even with the Bhut Jolokia chocolates, the chocolates were spicy as mentioned, I do feel it could have been a little toned up. You need to have a good amount of it to feel the chilly hit you Nonetheless, the quality of chocolate used was top notch and the mouthfeel was amazing.
Artisan Chocolates by Heritage On My Place is their USP. I received a small box of it with a piece each of Kesar, Aam Papad, Dates & Gulkand. Of all, the Aam Papad chocolate was quite unique and I loved it. Even the date's chocolate was pretty good and the sweetness here was just right. These artisan chocolates are a must-try.
Lastly, coming to the chutneys and relishes. I got a bottle each of Green Apple Chutney, Amla Chutney, and Beetroot Almond Relish. The first thing as I opened the mini jar that I noticed was the smell. It smelled fresh and not like it was coming out of a factory. The flavors are there and bang on. I had them with Thepla, Bread, and Roti and I'd give marks to the flavors. My pick here would be the Green Apple Chutney and Beetroot Almond Relish.
Why not try Heritage On My Plate?
As I mentioned in the beginning, there are a lot of small establishments that are coming up that specialize in a particular segment. Heritage On My Plate is all about artisan chocolates whilst preserving the traditional recipes and ways of cooking. I love their offerings and I found their gift packs to be quite interesting. While the chocolates were great, sweetness could be toned down a little according to me. Maybe you'll find it perfect 🙂 So go ahead and give Heritage On My Plate a try and relish their offerings.
Do